Plus+
Positively Improving the Proton Therapy Experience
Engineering Design Innovation Masters Thesis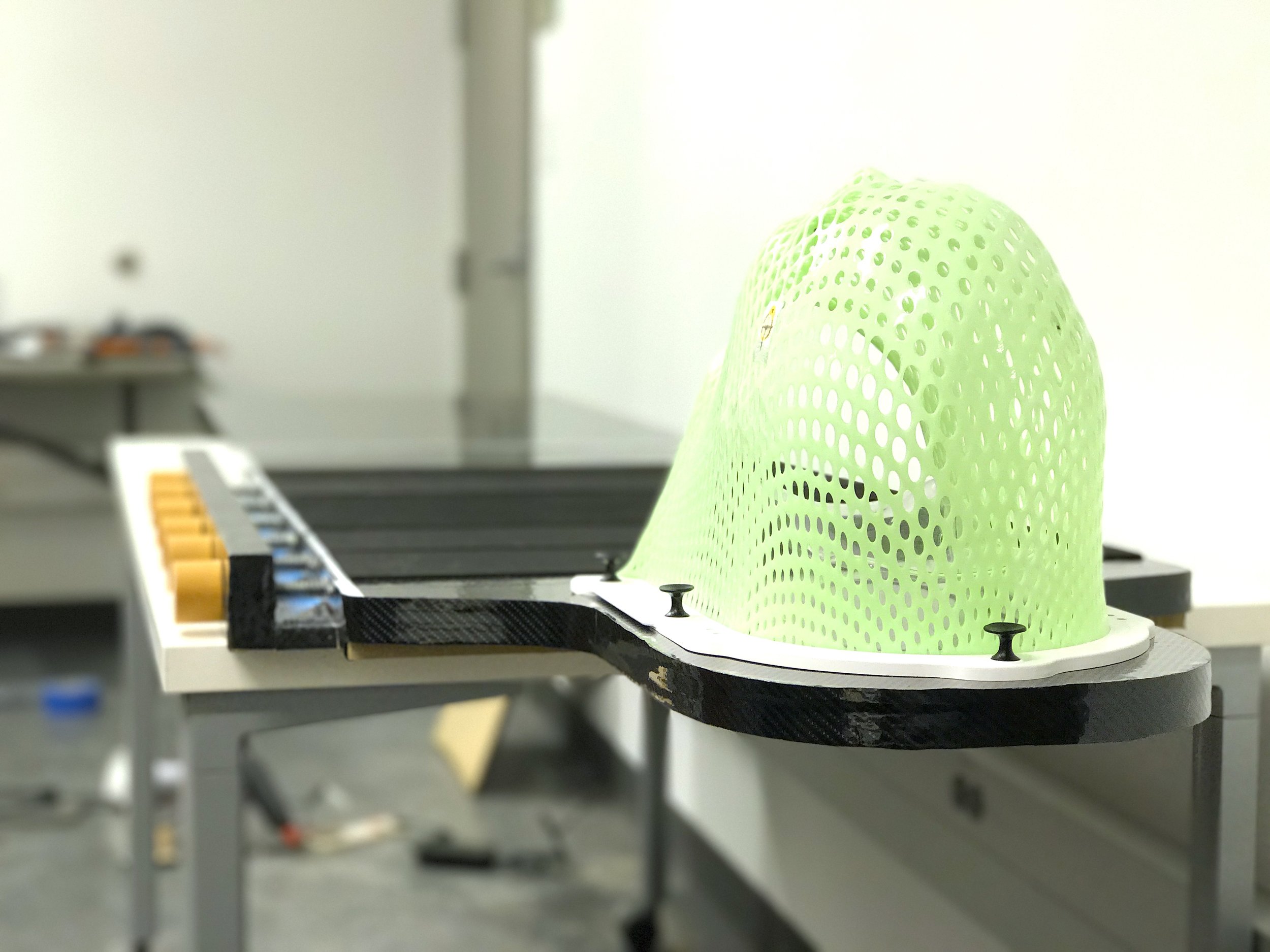 Proton therapy is a specialized form of radiation therapy for cancer patients. Due to the nature of this treatment, patients must be accurately aligned to the couch top for treatment during a process that can take up to 20 minutes. PLUS+ is an innovative proton therapy couch top system that utilizes independently controlled panels to streamline the daily patient alignment process.
PLUS+ aims to minimize the amount of x-ray radiation patients are exposed to, reduce the time patients spend immobilized, and improve clinical efficiency. This is accomplished through the use of independently controlled panels that can precisely adjust the patient's body relative to the couch top in a quantifiable way.
Ethnographic Field Research
Ethnographic research was centered around radiation therapists, patients, and medical radiologists. From clinical shadowing to interviews with industry professionals, this research took me across the nation.
High-Fidelity Prototyping
High-fidelity prototyping was instrumental in creating a medical device proof of concept. Utilizing custom silicone molds and 3D printing, a functional high-fidelity prototype of the final PLUS+ solution was created.
The Future of PLUS+
Since presenting my thesis in December of 2018, PLUS+ has garnered the interest of radiation therapists and medical physicists. Clear next steps and milestones will allow for future growth and development.
The Journey Begins
PLUS+ was my master's thesis for my education at Northwestern University's Engineering Design Innovation masters program. PLUS+ was created through two quarters of independent and intensive ethnographic field research and high-fidelity prototyping, all done with the future in mind. Continue scrolling to experience the journey of PLUS+.
Some details of the project are currently under non-disclosure and have been filtered.
Ethnographic Field Research
In order to innovate in the field of proton therapy, intensive research was conducted to understand the experiences of patients, radiation therapists, and medical professionals. I was able to travel across the country to interview leaders in the field who are currently pushing the boundaries of what is possible.
Clinical Visits:
California Protons | San Diego, CA
Chicago Proton Center | Warrenville, IL
Interviewed over 12 radiation therapists, senior medical physicists, medical dosimetrists, medical engineers, and a child life specialist.

Experienced part of the treatment journey through mask creation

Observed the treatment of several pediatric and adult patients.

Conference Visit:
ASTRO 2018 | San Antonio, TX
(American Society of Radiation Oncologists Annual Conference)
Spoke with the lead engineers, researchers, and CEOs of major radiation oncology device companies such as Varian, Klarity, Orfit, Qfix

Physically interacted with the latest technologies in radiation oncology.
Human-Centered focus
Conducting intensive ethnographic research not only allowed me to interact with the latest in radiation oncology technology but allowed me to create an empathetic connection to the therapist and patient experience. This connection allowed me to identify a key need that is often overlooked in a routine and recurring part of the treatment journey: the daily pre-treatment patient alignment process.
Prototyping
A primary goal of this thesis was to create a high-fidelity prototype and proof of concept that could be physically interactive for users. Leveraging over 7 years of independent prototyping experience, I was able to create a full scale, working prototype of PLUS+ in-house. This prototype has since been taken to the Chicago Proton Center where radiation therapists and medical physicists were able to interact with the device and give feedback.
Compatible with Current Clinical Equipment
Using various tools including a laser cutter, I was able to create the base of PLUS+ out of MDF. The headrest pictured above was designed to accept the traditional 5-point S-Frame style immobilization masks used in most clinics. Staying true to clinical dimensions was mandatory, and thus the couch top base was designed to match the typical clinical couch tops that are in use for patient treatment.
Creating the Sliding Panels: Resin Casting
Each sliding panel featured in PLUS+ was cast from the custom silicone mold. Castings were solid urethane resin in order to maintain product homogeneity and reduce deflection of the proton beam as it passes through the model. Due to the precise nature of treatment, every aspect of the prototype had to be solid and should be of predictable density. After casting, the panels were sanded and prepared for assembly.
Adjustment Mechanism
The panels on the PLUS+ couch top system move perpendicular to the patient's spine. This allows for precise and measured adjustment of the patient's body in the necessary areas. Several ways of facilitating this translational motion was tested and knobs were chosen for this prototype. Each knob was 3D printed and sanded before assembly. Exploration of other adjustment methods is currently in progress.
Custom Silicone Mold Creation
A custom two-part silicone mold was made to for the creation of the sliding panels that would eventually facilitate patient adjustment. The mold allowed for rapid yet precise replication of the sliding panel. The master sculpt that was molded was a 3D print that was sanded and primed to a perfectly smooth surface finish. A mold frame was then made to support the mold during the resin casting process.
Some Assembly Required
Each panel was given a custom bracket and motion hardware. The simple pieces of hardware allow for each panel to move significant weight without much input from the radiation therapist. As proton therapy does not use magnetic fields, the presence of metal in the edge of the prototype panels present no problems in the proton environment. Both the panels and couch top base were then skinned with carbon fiber vinyl.
Visual Adjustment Feedback
In order to know how much one is adjusting a patient from center, a custom visual scale was created to show the distance each panel has traveled. The staggered bars and changing color allow for quick identification of panel distance from afar, while units written on the scale can give a detailed adjustment value. This feature reduces the arbitrary adjustments needed and quantifies the adjustment process.
The Future of PLUS+
Identifying a need and white space, conducting design research, and prototyping is only the beginning of the journey. The fight against cancer impacts thousands of lives every year, and proton therapy is becoming one of the leading treatment methods for many conditions.
PLUS+ allowed me to challenge myself to create a medical device that not only facilitates treatment from a medical standpoint, but positively impacts the both the patient and clinician's experiences with treatment.
What's Next for PLUS+?
Presenting PLUS+ at the Engineering Design Innovation Thesis Show in December of 2018 was a major point in the development of PLUS+. Since presenting my thesis on at Northwestern University, I was invited by the Chicago Proton Center to present PLUS+ in their medical physics department meeting and the radiation therapy department meeting. A lot of positive feedback and discussion flowed from these presentations, giving PLUS+ a boost forward as a project.
Moving forward, PLUS+ will be pursued as an independent venture, with the goal of someday being incorporated into the clinical setting for testing. Leveraging the radiation imaging technologies currently used in clinics, PLUS+ could help clinics reduce up to 50% of the clinical time per patient every day. With this reduction in treatment time, patients will not only receive less radiation due to imaging, they will be spending less time immobilized and will be able to return to their daily lives much faster than they do in the present day.
PLUS+ has been a journey of challenges, and I hope that in the future, PLUS+ can have a positive impact on the proton therapy experience.